Firemen visit Primary 5
25th Nov 2014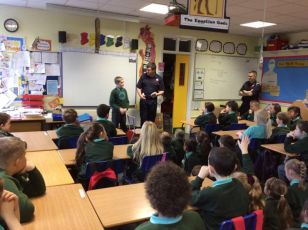 Firefighters Patrick and Lee came to visit us today and gave us a fire safety talk. They told us what to do if we are ever stuck in a fire. They told that we should always check the batteries in our smoke alarms and that it is important to discuss with our families a fire route which will help make sure everyone at home knows what to do in case a fire breaks out. Patrick and Lee also told us the dangers of making prank calls.
They gave us a fire pack called, "Fire Safety Teams." We really enjoyed the talk and learned a lot. Thank you Patrick & Lee.
Oakgrove Integrated Primary School and Nursery, 19 Limavady Road, Derry~Londonderry, BT47 6JY
T: 028 7134 9644 | F: 028 7131 2945 | E: info@oips.lderry.ni.sch.uk

Website by School Web Design | Login
Oakgrove IPSN is not responsible for the content of external Internet sites. We recommend adult supervision for all links to external sites.