Primary 5A meet David Best.
18th Mar 2015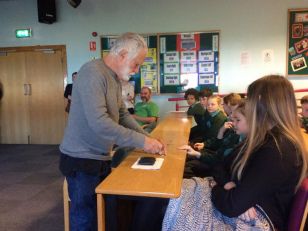 Primary 5A were delighted to be given the opportunity to meet the American artist, David Best, who created the 'Temple' which was constructed on the site at Corrody Road Country Park, Top of the Hill.
David told the children Temple belongs to everyone. Everyone is invited to bring messages, photographs or mementos to the structure, to enjoy a moment of reflection in the space, before it is set alight in a special ceremony on Saturday 21st March.
David worked with the children inspiring them to create their own ideas for a temple. He asked them to think about a time of saddness or loss in their lives and think how the temple would symbolise letting that pain go. He explained that the Temple should be a sanctuary.
The children were then introduced to Adam Clarke, a Minecraft expert, who taught the children how to construct their temple design using MineCraft.
The children had a fantastic day and were truly inspired by the talented artists they met today. This was an amazing trip!!
Oakgrove Integrated Primary School and Nursery, 19 Limavady Road, Derry~Londonderry, BT47 6JY
T: 028 7134 9644 | F: 028 7131 2945 | E: info@oips.lderry.ni.sch.uk

Website by School Web Design | Login
Oakgrove IPSN is not responsible for the content of external Internet sites. We recommend adult supervision for all links to external sites.